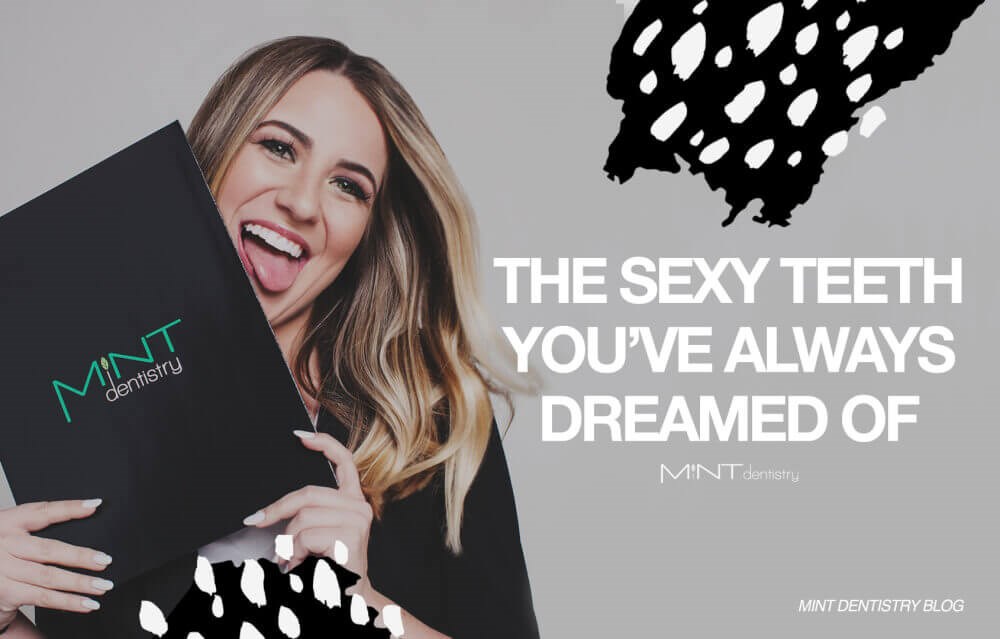 CAMOUFLAGE YOUR COSMETIC DENTAL IMPERFECTIONS WITH PORCELAIN VENEERS
Countless people wish they could improve their unsightly, discolored, chipped, or unevenly spaced teeth. Porcelain veneers, sometimes called ceramic veneers, are likely an excellent treatment for these people. Our experienced staff of dental professionals at MINT dentistry in White Rock is proud to provide custom porcelain veneers. An all-in-one aesthetic dental treatment, porcelain veneers can help with a multitude of surface tooth issues to help men and women in Dallas, TX get beautiful, amazing smiles as soon as possible. Porcelain veneers can be a fantastic option if you are looking for an easy and effective way to enhance the appearance of your teeth so you feel more self-assured in your social and professional life.
WHAT ARE VENEERS?
Veneers are wafer-thin porcelain covers that are placed onto the front surface of your tooth. According to your unique needs, dental veneers can be designed to disguise a multitude of surface flaws. Gaps, staining, cracks and irregularly shaped, extra-small, and jagged teeth can all be covered up by the veneers to create a sexy smile.
REASONS YOU NEED TO OPT FOR PORCELAIN
The most common kinds of veneers are made of porcelain and resin. Most dentists, including at MINT dentistry in White Rock, prefer porcelain since it is less vulnerable to discoloration than resin, and it lasts longer, as well. Porcelain also matches the look of your existing teeth better as a result of the way it reflects light. One of the major reasons for using dental veneers is to improve your smile without it being apparent that you've had a cosmetic dental procedure done. Porcelain veneers provide the most durable and most beautiful results for individuals.
COULD I BE AN IDEAL CANDIDATE?
People who wish to have veneers must not have any indications of cavities or gum disease. Before you can be considered for custom porcelain veneers, your dental practitioner will have to determine that you are in satisfactory oral health. They will also need to make sure that your teeth have plenty of tooth enamel, because a tiny bit of enamel almost always needs to be shaved off in order to put on the veneers. Further, if you have bruxism or clench your teeth, you may not be the best candidate. Those who experience any of these oral health problems will be required to get them seen to before they can undergo any cosmetic services. Patients in Dallas, TX who are seeking out porcelain veneers typically have many different issues they want to have treated. Veneers are able to produce remarkable superficial improvements, for example, in the size, shape, color, and length of the teeth. They can also mask common concerns like crooked or irregularly shaped teeth. Other frequent reasons patients receive ceramic veneers include significantly stained teeth, teeth that are too little (microdontia), broken teeth, and gaps between teeth.
THE PROCEDURE FOR GETTING VENEERS
As soon as your dentist has determined that you are a good candidate for ceramic veneers, a mold of your treatment area will need to be made. Your impressions will be mailed to a lab, where your tailor-made veneers will be created from resin or high-quality porcelain. Once your dentist receives your veneers from the dental laboratory, you'll come back into the office. During this visit, a tiny quantity of enamel will be shaved from the top sides of your teeth. This creates room for the dental veneers and slightly roughens the enamel for enhanced hold. Having veneers placed generally does not require any type of anesthesia. Nonetheless, if you deal with dental fears, nitrous oxide or an oral sedation can be requested. After the veneers are attached, slight adjustments will be made to verify that they are comfortable and fit well. After one last polish of your veneers, you'll be released to go with your improved, beautiful smile to go about your day-to-day routine. This quick and effective cosmetic dental treatment can erase the self-consciousness you once had and help you become more confident.
TAKING CARE OF YOUR PORCELAIN VENEERS
Some patients will have a mild sensitivity to cold and hot foods for three or four days after their dental veneers are placed, but this feeling should go away without intervention. Concerning staining, porcelain is less vulnerable than natural enamel, but you still need to be careful when consuming things that could discolor your teeth, like tea, dark-colored berries, or anything acidic. In order to preserve your new veneers, as well as your natural teeth, you ought to keep up a good home oral health regimen. This means brushing and flossing your teeth daily. It is also important to make sure that you make appointments with your dentist in Dallas, TX at least two times a year for your oral health evaluation and twice-yearly dental cleanings.
WHAT DO PORCELAIN VENEERS USUALLY COST?
Prices for ceramic veneers are determined by the patient's personal treatment plan. At your consultation, your dentist will evaluate your dental concerns and go over how many porcelain veneers you need and where, which will partially determine your final pricing. While aesthetic treatments like dental veneers are not generally covered by insurance, MINT dentistry in White Rock takes many types of payments, in addition to many financing choices. If you would love to get cosmetic veneers, we will do what we can to make your plan more affordable.
HOW MANY YEARS DO VENEERS STAY ON?
When maintained correctly, veneers can last from 10 – 20 years. Veneers are very strong, so as long as they are well maintained, they should last for a very long time. At your yearly oral health checkup, your dentist should assess the condition of your ceramic veneers and tell you when you need to have them redone.
ACHIEVE A BRIGHTER SMILE WITH PORCELAIN VENEERS
Ceramic veneers can address several types of dental imperfections and provide you with a radiant new smile and a much-needed boost in positivity. Whenever you would like to hear more about cosmetic veneers, please call our team at MINT dentistry in White Rock to set up an examination and veneer consultation. We will discuss whether you are eligible to receive veneers, as well as your questions and goals, before creating your unique treatment plan. Remember to request to view our before-and-after pictures of previous patients in Dallas, TX who have undergone a smile upgrade with porcelain veneers. Before and afters can help you see how your new smile will look.